RUNManji
END This GAME May Challenge
RUN/Walk/Bike all May to support Colorado food banks and small business
#RUNtoChangeLives @runtochangelives
The Why
What if you could use your exercise goals to help out small businesses AND our food banks?
We all love races and these are trying times for our race directors who rely on events as their sole source of income. They were the first businesses to shut down and will be the last to open. This event unites race directors across the state of Colorado, highlights small businesses every day, AND gives back to our local food banks. Let's lace up again with purpose in support of our communities and let's continue Changing Lives Together.
Choose Your Adventure
Desert | Mountains | Underwater | Jungle | Winter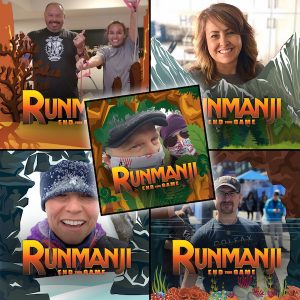 (Change Your Profile Picture – Click Above)
How Does This Benefit Small Business?
Every day we highlight a small business in our Facebook Group and throughout the challenge we will also randomly open up limited tabs at these businesses for everyone to enjoy something for FREE on us! You must be part of the RUN to Change Lives Facebook Group to take advantage.
How Does It Work?
Sign up for the challenge and set a mileage goal for May!

Join the RUN to Change Lives Facebook Group and immediately post your mileage goal, then post pictures of each completed RUN, walk, or bike ride to the group and tag us #runtochangelives

Join one of our Strava Clubs (it's free) to track your miles and compete for top prizes:

Join us live every Friday at 5PM here in the Facebook group for random give-aways to our participants.

Invite a friend to sign up.

At the conclusion the top 3 overall runners/walkers, and the top 3 overall bikers with the most mileage receive top prizes.
What do I get for signing up?
1 top-quality blended performance RUNManji t-shirt.

1 free crowler from 105West Brewing Company. A digital coupon for the free crowler will be sent via email after we've had time to process your registration.

Community with the RUN to Change Lives Facebook Group all posting pictures of their RUNs, walks, and bike rides.

The chance to win free give-aways every Friday at 5PM all benefiting local small businesses, and the chance to compete for top mileage prizes.

The opportunity to show your support for our food banks and Colorado small business and inspire others to give back too!
Can I run or walk with my furry friend?
YES! In fact, you can register your dog and receive a RUNManji branded bandana so they can show their support and inspire other canines to get moving!
How are small businesses chosen?
RUN to Change Lives™ has a list of small businesses who have partnered with us and supported our events over the years. They are our first priority, and we also realize there are many other small businesses state-wide who are also struggling.
Do you know a small business that is struggling to keep afloat? Can you rally your neighborhood to get signed up to support them? Please contact us at info@runtochangelives.org
I lost my job
We at the RUN to Change Lives™ team are so sorry to hear the news of friends who have been impacted by the COVID-19 impact to the economy. We would love to have you join us and we have a limited number of sponsorships available to get you signed up for free. Please email us at info@runtochangelives.org
All Proceeds Benefit
We've heard from the director of the Help&Hope Center that funds and supplies are running low. They can buy groceries and feed families for .20 cents on the dollar. Let's maximize our dollars by living beyond ourselves and giving back.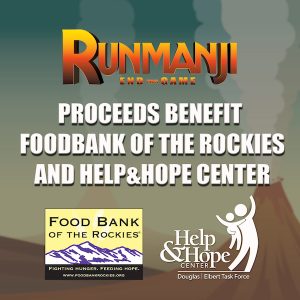 Weather and Liability
Keep in mind outdoor paths may not be cleared in the event of concerning Colorado weather conditions. Please use your best judgement and plan accordingly. We assume no liability for injuries.
Refund Policy
No refunds given. Funds are used continuously throughout the challenge to invest back into small businesses.
Ready?
RUN/Walk Mileage Results
| Activity | Total May Mileage | Name (First Name) | Name (Last Name) |
| --- | --- | --- | --- |
| Running/Walking | 50 | Jason | Anguiano |
| Running/Walking | 56.6 | Georgine | Abeyta |
| Running/Walking | 275.07 | Steve | Uecker |
| Running/Walking | 257 | Jandy | Miller |
| Running/Walking | 283.8 | Jason | Gardner |
| Running/Walking | 85.5 | Annette | Brosius |
| Running/Walking | 20 | Ashley | Doell |
| Running/Walking | 135 | Ragan | Sasaki |
| Running/Walking | 130.18 | DeDe | Middents |
| Running/Walking | 100.4 | Tina | Clinton |
| Running/Walking | 110 | Kelly | Webster |
| Running/Walking | 134 | Dianna | Jensen |
| Running/Walking | 93.52 | Scott | Bialkowski |
| Running/Walking | 70.94 | Adi | Tabarangao |
| Running/Walking | 105.68 | Jonathan | Liepe |
| Running/Walking | 63.45 | Susan | Porter-Green |
| Running/Walking | 50.4 | Leanne | Duran |
| Running/Walking | 323.91 | Heather | Cognetta |
| Running/Walking | 204 | Amy | Armstrong |
| Running/Walking | 103.2 | Robin | Jarvis |
| Running/Walking | 99.76 | Heath | Walter |
| Running/Walking | 78 | Katie | McIntosh |
| Running/Walking | 171.7 | Lila | Seal |
| Running/Walking | 115 | Dawna | Perry |
| Running/Walking | 104 | Rachel | Mondragon |
| Running/Walking | 100.6 | Daniel | Mondragon |
| Running/Walking | 161 | Amber | Allen |
| Running/Walking | 119.03 | Hillary | Reed Pasquale |
| Running/Walking | 114.5 | Corinne | Berkeley |
| Running/Walking | 59.46 | Laurie | Walker |
| Running/Walking | 52.94 | Julie | Matuszewski |
| Running/Walking | 74 | Rochelle | Walter |
| Running/Walking | 124.5 | Joann | Castellano |
| Running/Walking | 81.6 | Sarah | Adams |
| Running/Walking | 125.6 | Becky | Erickson |
| Running/Walking | 200.5 | Eva | Jones |
| Running/Walking | 40 | Matt | Crowe |
| Running/Walking | 75.75 | Saara | Alakoski |
| Running/Walking | 70.58 | Jermie | Langer |
| Running/Walking | 116.75 | Cori | Canty Woessner |
| Running/Walking | 150.79 | Tia | Yaryan |
| Running/Walking | 134 | Heather | Miller |
| Running/Walking | 134 | Jeremy | Miller |
| Running/Walking | 150 | Heather | Donnelly |
| Running/Walking | 85 | Amber | Wiese |
| Running/Walking | 64 | Cynthia | Russell |
| Running/Walking | 77 | Jonathan | Edwards |
| Running/Walking | 144.1 | Melissa | Williams |
| Running/Walking | 100.6 | Tracy | Kramer |
| Running/Walking | 50.1 | Jill | Sprafke |
| Running/Walking | 127 | Liz | Crellin |
| Running/Walking | 227 | Jess | Gillman |
| Running/Walking | 130 | Gina | Meachum |
| Running/Walking | 150.8 | Kendra | Arkfeld |
| Running/Walking | 171 | Kahala | Sparks |
| Running/Walking | 75 | Kristen | Crowe |
| Running/Walking | 66.5 | Courtney | Ellis |
| Running/Walking | 179.43 | Chance | Potter |
| Running/Walking | 31 | Tj | Kizuka |
| Running/Walking | 54 | Amy | Noyes |
| Running/Walking | 57.7 | Reese | Walters |
| Running/Walking | 50 | vel | martinez |
| Running/Walking | 110 | Heather | Biglow |
| Running/Walking | 245 | Katherine | Place |
| Running/Walking | 43.47 | Cathy | Pearson |
Bike Mileage Results
| Activity | Total May Mileage | Name (First Name) | Name (Last Name) |
| --- | --- | --- | --- |
| Biking | 179.76 | Georgine | Abeyta |
| Biking | 200 | Steve | Uecker |
| Biking | 503 | Alexei | Uecker |
| Biking | 114.8 | Joann | Castellano |
| Biking | 307 | Isaac | McGuffin |
| Biking | 190 | Jonathan | Edwards |
| Biking | 304 | Tracy | Kramer |
| Biking | 1077.83 | Sean | Pechon |