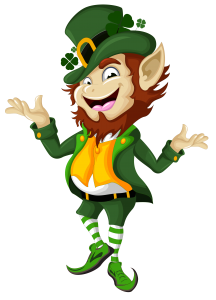 2nd Annual ShamROCK Stampede
3.3K & Lucky 7K Family Fun Run/Walk/Stroll
St. Paddy's Day Weekend @ 8:00AM
March 21, 2020
Douglas County Event Center
500 Fairgrounds Drive
Castle Rock, CO
RUN to Change Lives COVID-19 Update
First and foremost we want to thank everyone for the outpouring of support for our event and cause of battling PTSD and mental health. Our 2nd annual event scheduled for next weekend on March 21st was gearing up to be quite a production with almost a year of planning behind the scenes. We truly could not do this without each and every one of our sponsors, vendors, volunteers, and participants. We are sincerely grateful.
We want to take this opportunity to let everyone know what our current plans are regarding the Coronavirus (COVID-19) impacts, and announce that we are following the guidance of the Governor of Colorado to postpone any event over 250 people. Now that the ShamROCK Stampede is officially postponed, we are exploring options to move the event into the future with the exact same venue at the Douglas County Events Center. We are working with all municipalities to ensure the safety of everyone before we can announce a new date. We are also postponing our advanced packet pickups. We have t-shirts and medals in hand and many other vendors paid and ready to provide services. We are working hard and will communicate new plans just as soon as we have firm direction.
Rest assured we stand behind our name… RUN to Change Lives. We will get through this together and continue to provide opportunities to Change Lives Together in a positive way.
Thank you all for your continued patience and understanding as we work through all of this. Please don't hesitate to reach out to us with any questions.
Your Race Directing Team
RUN to Change Lives
info@runtochangelives.org
Below are the highlights
For more detailed information please visit the official race website
All Proceeds Benefit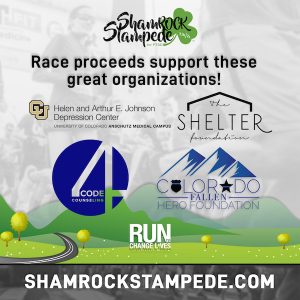 JOIN US
Our 2nd Annual ShamROCK Stampede for PTSD launches on Saturday March 21st from 8am – 1pm at the Douglas County Events Center in Castle Rock CO. Our unique family friendly ShamROCK style course spreads out over East Plum Creek Trail with a Kid's 1K Sham-Scram, 3.3k, and our Lucky 7K! The Sham-Jam includes awards, local breweries and food, and features local bands all raising awareness and funds for PTSD and mental health.
You are CHANGING LIVES when you register for the ShamROCK Stampede. Whether you are a serious runner or leisurely walker, bring the whole family and join the fun.
BACK TO HEALTH EXPO
Health Expo with over 40+ vendors (please support our sponsors)
1 free food item: from Flippin' Flapjacks and Stok'd Pizza
Plenty of entertainment for the kiddos including free face-painting
1 free beer per participant 21 years and older. Additional beer purchases available
EVENT SCHEDULE
8:00 AM – Back to Health Expo | Race Day Registration | Packet Pick-up
9:00 AM – 3.3K starts
9:40 AM – Lucky 7K starts
9:45 AM – Sham-Jam concert kicks-off with Ryan Chrys and the Rough Cuts
10:30 AM – Awards Ceremony
11:00 AM – 1K Kid's Sham-Scram
11:00 AM – Sham-Jam continues with Van Crue'len
1:00 PM – Event ends
ADVANCE PACKET PICK-UP
Saturday March 14th 10AM-1PM – Boulder Running Company 8545 E Arapahoe Rd, Greenwood Village, CO 80112
Friday March 20th 4PM-7PM – Castle Rock Outlets Suite#205 (next to Puma, Lids, Sunglass Hut)
WAVE CORRALS
In an effort to promote safety, the ShamROCK Stampede is using an assigned wave system for the start. If you wish to run or walk with others at the event, select the wave of your slowest person for all registrants. Note: You may move to a slower wave than assigned, but you cannot move to a faster wave than assigned. Remember your time does not start until you cross the timing mats.
Wave #1 – For those of you faster than 8-minute pace per mile. No strollers or dogs.
Wave #2 – For those between 8-10 minute pace per mile. No strollers or dogs.
Wave #3 – For those between 10-12 minute pace per mile. No strollers or dogs.
Wave #4 – For those slower than 12-minute pace per mile. No strollers or dogs.
Wave #5 – All leisurely walkers, strollers and well mannered K9 pals. Party in the back!
The number of waves are at the events discretion for safety and enjoyment of all participants and may change as needed.
NOTE: You do not have to register your little ones who are riding in a stroller unless you want them to have a shirt and bib.
WEATHER & LIABILITY
Neither snow, nor rain, nor heat will keep us from hosting the ShamROCK Stampede. Keep in mind the route may not be cleared in the event of concerning Colorado weather conditions. Please plan accordingly. We assume no liability for injuries.
REFUND POLICY
No refunds will be given. If you are unable to attend, your registration constitutes a tax-deductible donation.
Learn more by visiting the official race website: