Less than one percent of the United States population will run a marathon. And only a fraction of those will ever run a World Marathon Major—Tokyo, Boston, London, Berlin, Chicago, and New York City. Even rarer is the person who's run all six and claimed a Six Star Finisher medal. 
As of August 20, 2020, 6,619 runners had achieved that goal. 
Jennifer Giebner has done it twice. The second time, she did it in one calendar year. And she was set to complete it for the third time in 2020.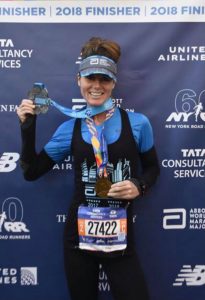 Of course, the pandemic derailed all in-person races, and right before the Tokyo Marathon—one of the two races that Jennifer needs to check off her list for the third star. 
While it was disappointing, losing the chance to get her third star and to do it in back-to-back years, it didn't deter Jennifer from going for big goals. In fact, it gave the idea to push her goals even farther than she thought she could. 
In 2020, Jennifer blew past the 100-mile week target, tackled her first ultramarathon, and finished the year out racking up 5,000 miles total.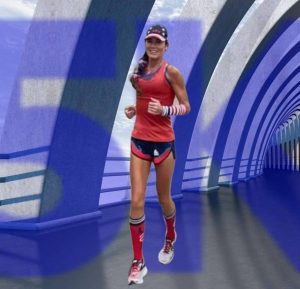 Jennifer hasn't always been a runner. In fact, she started by walking, covering the three-mile stretch of her town's main street every day. 
Then, she added in running, and after running seven miles on the Las Vegas strip with a friend, Jennifer decided to sign up for the marathon there. 
She ran that first marathon in 2009 without proper training or fueling, then couldn't walk for two weeks after. Jennifer was determined to do better in her second marathon—she wound up qualifying for Boston and winning her age group. Jennifer says, "I didn't know what it meant," to qualify. 
But when she got to Boston, she'd learned what accomplishment it was to be there. "Standing at the start line in Boston, I had tears in my eyes." Finishing that race led her to run her second-best time at the New York City Marathon. Then she learned about the World Marathon Majors. 
At that point in her life, Jennifer had never been out of the country. She didn't know if she wanted to pursue the Six Star Finisher challenge. But she did want to push herself. 
"I was going through a divorce and I wanted to get away from the sadness," she says, which ultimately led her to the London Marathon—a race that she says she'd go back to again and again. 
A friend, who finished London with her, gave Jennifer the idea of doing all six World Majors in one year like he did. Now Jennifer had a more ambitious goal.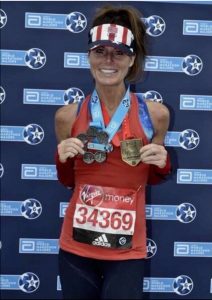 It's considered very taxing to run one or two marathons in one year, let alone six. Add to that international travel, and the fact that Boston and London are about a week apart and Berlin, Chicago, and NYC are just a few weeks apart from each other. Oh, and the fact that it's notoriously difficult to get into the races which are mostly done through a lottery system. 
It was a stroke of luck that Jennifer got into all the races in one calendar year (except for Berlin, which she wound up doing through a travel company). But it was skill and training that got Jennifer's body through the grueling race schedule. 
She was also inspired to keep going by pairing her marathons with fundraising. In honor of her brother-in-law who passed away from kidney cancer, Jennifer has fundraised for that cause, as well as pre-eclampsia. "It just makes the experience [of running a marathon] different," she says.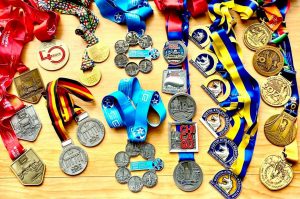 Throughout her running journey, Jennifer has found that she can put her body through a lot and still bounce back. That gave her the confidence to pursue her goal to run 5,000 miles when her race calendar was wiped clean in 2020. 
Her path to this accomplishment actually began back in January; she decided to start running in the morning before work because she wanted to give herself more time in the evenings, but Jennifer found that she still wanted to spend that time running, too. 
So Jennifer got into the habit of doing two-a-days and kept it up when COVID-19 hit. "I would rather run two times a day than [do] one long run," Jennifer says she realized. Although, she also does regularly cover 12-13 miles on her morning run alone. 
"Especially at the beginning of the pandemic, I was lonely and everything shut down so I just started running longer and longer," she says. That's how Jennifer started to build her mileage, accomplishing 80- and 90-mile weeks. Along the way, she completed a marathon in April to replace Boston and tackled her first ultradistance run. 
Then she accomplished her first 100-mile week, and Jennifer says, "I just broke through a plateau." She realized that she could cover more distance than she'd ever thought. 
But Jennifer says that whether someone is running 10 miles or 100, the process is the same. "I think you just have to take it a little bit at a time, and it's mind over matter," she says. "Build your mileage up slowly and just enjoy the process." 
Something else that Jennifer advises is, "Don't compare yourself and don't worry about time. You just have to appreciate that your body is able to do something that a lot of people who can't do." 
Whether she's chasing down another Six Star Finisher medal or a milage goal, Jennifer dreams big. "You have dreams in your heart and chase after them," she says. "Don't let anyone else tell you otherwise."