When the UK imposed its first national lockdown in response to the COVID-19 pandemic, Charlotte Banks, who owns a dog grooming business, suddenly found herself with a lot of time. Unable to work, Charlotte says it, "gave me the opportunity to look at my life."
And what she saw was that she had always wanted to be fitter, but at some point in her life, Charlotte had resigned herself to the fact that she was always going to be an overweight person.
Previous efforts to get fit hadn't panned out. In fact, Charlotte says that "I had lived my life giving up."
The lockdown—for all its downsides—was giving her a chance to change that.
Charlotte decided to try a Couch to 5K program, vowing that this time she would stick to it. When she first started, though, she could barely run five yards without feeling like she was going to collapse.
She also couldn't keep up with her husband—who was doing the program, too—and the comparison only further discouraged her. "He is so much faster than I am and I would be quickly on my own, I then started to compare myself to him, and I would feel very depressed because I wasn't as fast as he was. I wasn't losing weight as fast as he was, I wasn't as toned as quickly as he was."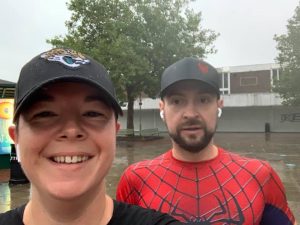 It all put in her a dark place. "It's frightening when you feel that way, and you don't see a way to do anything about it," she remembers. Charlotte knew she couldn't stay the way she had been—out of shape and unhappy—but she was scared to embark on a new path to fitness. Still, she says, "It was that drastic moment when I realized I had to do something."
But even with that in mind, her old fears came up, and Charlotte says she didn't really believe she would finish the Couch to 5K. She says she also felt like the friends and family around her didn't really expect her to finish it either.
So she decided to couple her running program with fundraising for St. John Ambulance, which provides First Aid Services for public events, and training on first aid skills. The additional support for her running that the organization gave her, as well as the external purpose, renewed her interest in finishing the program.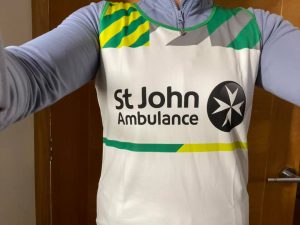 Throughout her journey, Charlotte also recorded video diaries after each run. Not only did this boost her fundraising efforts, but the reflections gave Charlotte a new perspective on her life and running.
"It makes you face up to certain things in your life," she says. "It lays all of that bare to you–what a place to be and what a place to come from." This pushed her even more to complete the 5K program and change the narrative that she felt drove her life to this point of being a quitter.
In this way, Charlotte's running journey has been a psychological one as well. "It changed my life."
Running and reflecting have changed Charlotte's outlook on life, giving her renewed hope for her future, especially when it comes to achieving greater running goals. And, she says, "It's helped my mental health—I have much more of a positive attitude now."
To support her running habit, Charlotte also found that she needed—and wanted—to change the way she ate. She says it changed how much she eats and what she eats drastically.
Running through the lockdown and beyond has helped Charlotte lose 45 pounds and gain immeasurable self-confidence.
"I remember the first time I managed to run 30 minutes non-stop, I was elated," she says. Now she runs every other day, finding that she can't go more than a few days without running or she gets grumpy.
She's also built up her distance and is regularly running 10K now. Charlotte has her sights set on a local 10-mile race in 2021 and hopes to run the London Marathon one day. More importantly, she fully believes now that she can complete the marathon distance.
"That fear of failure is what stops a lot of people and it's what stopped me," she says. "You give up before you fail because somehow that's better in your mind." But to anyone else who wants to take up running, she advises, "The only person you're letting down is yourself."
"It doesn't matter how slow you go, just don't stop."