While Adi Tabarangao's running journey didn't begin until 2015, her story really started more than a decade earlier. 
She was first diagnosed with uterine cancer in 1999 after she had her son. "It was a long and scary road to recovery," she says, "yet I was a survivor." Unfortunately, that wasn't the end of it. In 2004, she started to sick again. She says she spent most of the year, "feeling awful and going from one specialist to another. I was shocked to find out I had thyroid cancer. Honestly, at the time, I didn't even know what a 'thyroid' was or what it did. After that surgery and treatment, life went on as normal, a very new normal, but I never truly felt like myself." Adi says she still struggles.
In March of 2014, she underwent yet another major surgery in which her entire stomach was removed along with 80 percent of her small intestines and part of her esophagus. Adi says, "I knew my life wouldn't be the same, but more importantly I needed to find a healthy coping mechanism for my anxiety and depression."
It was a very slow process, but she started going to the gym and met a runner. "Mind you I wasn't a workout person and I hated the thought of running," Adi says. But the runner friend convinced her that she could run a half marathon. Not only that, but she insisted that Adi could run the distance six weeks later.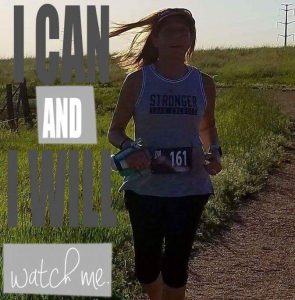 "At the time I couldn't run around the block. I ran my first half marathon in May of 2015 and have been running ever since." 
That was the turning point for Adi. "In July 2015, something in me ignited and sparked what I now refer to as an unstoppable warrior! What I didn't realize then was the difference between being alive and living! My health wasn't good and without even realizing it I was letting it define me and in turn, it was stealing who I once was." 
Since then, Adi has completed six full marathons, more than 30 half-marathons, a 30-kilometer military ruck, a 25K, and many more running challenges and shorter-distances races.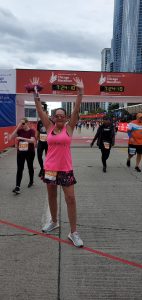 "To think back to 2015 when the mere thought of running made me cringe to what I have accomplished since is beyond amazing in my eyes." Adi adds, "I realize it might look crazy to most people, but it's the only thing that keeps me sane and honestly feels like the only thing I can control."
And unfortunately, Adi has had more complications with her health. Her life was turned upside down again in 2017, she says. "On March 10th I got the most severe pain that only continued to get worse. I went to the ER and was immediately admitted."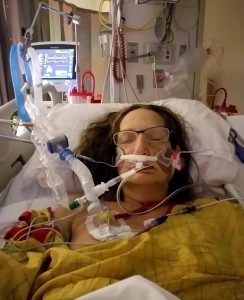 From March 10th through the end of May, Adi underwent seven surgeries, two trips to ICU fighting for her life, six blood transfusions, and numerous scans, procedures and tests. "My weight became dangerously low, so I was being tube fed; and everything a healthy body should do, mine was struggling to do. I was diagnosed with neuroendocrine cancer and eosinophilic hepatitis, which led to liver failure." 
Adi is still constantly in and out of the hospital for procedures, tr