For Heather Donnelly, "Run to Change Lives" isn't hyperbole. The organization has, quite literally, changed her life, starting with the race that sparked her passion for running: the Turkey Rock Trot 5K.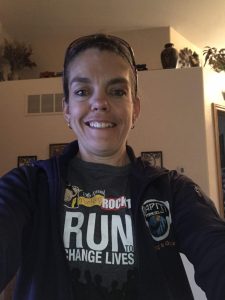 Since Heather ran her first race in 2017, she's tackled countless races–from 5Ks to half marathons–and countless miles. She's training for her first marathon next February. But she spent most of her life thinking that she hated running. So what changed her?
Heather's journey to running started on a treadmill, which she only used to supplement her fitness routine when she wasn't working with a personal trainer. She liked setting challenges for herself, like seeing how much distance she could cover in an hour, but Heather didn't consider herself a runner yet.
When personal training was no longer an option for her, Heather joined OrangeTheory to bring structure and motivation back to her fitness routine. What she didn't anticipate was her community there would introduce her to a new challenge. They encouraged her to run the Turkey Rock Trot with them.
One of her OrangeTheory friends said to her, "You should get out and run a race just to see," Heather recalls. She laughs at the memory because at the time, she thought three miles was way too far. Then she realized that she'd worked up to much farther distances on the treadmill, so though Heather was still uncertain about running outside, she decided to go for it.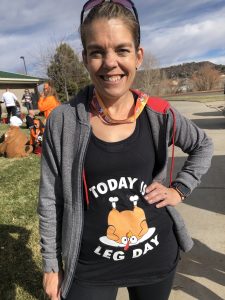 "It was an amazing experience!" Heather says. "I couldn't believe I did it afterward." She loved the challenge of the race, but even more so, the sense of community.
Heather was hooked. She immediately signed up for more races, including her first half marathon, the 2018 Disney Wine and Dine Half.
Suffice it to say, her build-up to the race was a little unconventional. "I said to myself I guess I should run a few more races," Heather says, describing her training plan. So she raced and covered 13 miles a few times in the lead-up, but she went into the first half having no clue what she'd gotten herself into.
Heather had a great race, even though she couldn't walk for two days after and swore she'd never run another half again. That is until her daughter pointed out how close Heather was to breaking two hours.
That's when Heather became the person to encourage others to go after their first race. She signed up for the 2019 Wine and Dine Half and convinced a group of friends to go along with her.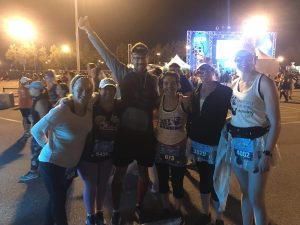 At that point, it became clear to Heather that she loved running, but even more so, she loved the community aspect of the sport. She decided to become an ambassador for the organization that got her racing in the first place: Run to Change Lives.
She started running seriously because someone else told her she could, someone else encouraged her to get out of her comfort zone. So she wanted to do that same thing for others. Heather wanted to encourage more people to get into the sport she loved.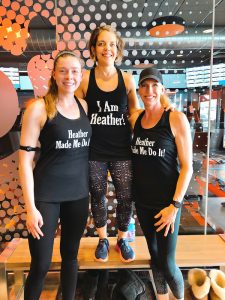 At the same time, Heather's close friend received devastating news: her two-year-old granddaughter, Aviana, was diagnosed with Leukemia. Heather began running her miles for Avi, and she turned to her new community for support. Could she harness the generosity of the running community to support Avi's fight?
Run To Change Lives stepped in to help Heather realize her dream: to organize a 5K that would fundraise for the Leukemia and Lymphoma Society to help Avi.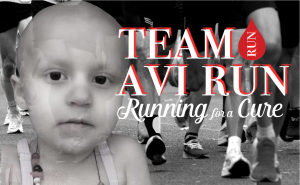 The race was set to take place in April 2020. And then COVID hit.
That's when Heather saw the true strength of Run to Change Lives and her running community. Despite the fact that the race couldn't happen in person, people still donated and ran for Heather's cause. Furthermore, she found that people flocked to the Run to Change Lives Facebook group to find a bright spot during the quarantine.
"[The group] drew so many people in and it wound up being such a positive place on the internet. It was all about encouragement–encouraging others to keep moving," Heather adds that she felt that was so important for everyone's mental health. At the time, Run to Change Lives was also coming up with monthly challenges that would get people running while supporting the Castle Rock community. "I think people were looking for that, and they saw we were supporting the local community, so they wanted to be a part of something positive."
Heather hopes that people will find that same sense of community around this year's Turkey Rock Trot, though it has gone virtual, too. "I'm sad to see the race go virtual because I love seeing the people there every year and inspiring others to go do it," Heather says. She even admits that she loves the routine of waking up early on Thanksgiving to go do it.
But, she believes that having the virtual race and the Facebook community behind it is better than having a Thanksgiving with no race at all. Everyone can still share pictures of their run and feel like they took part in a collectivity activity. Plus, Heather reflects, this year, in particular, we need a reminder to feel grateful, which a Turkey Day run always inspires her to do.
And, of course, there's an important cause, the Help & Hope Center, that benefits from the race and needs runners' generosity more than ever.
That's why Heather will hit the streets on Thanksgiving morning and run her own 5K route. "Run to Change Lives–the name is the truth," she says. "it's not just changing lives for the charities [the organization supports], it's changing the lives of the people who are a part of it."