Bill Freund is the kind of runner who came for the sport but stayed for the community, and he believes that's where running's transformative power lies.
To look at this Run to Change Lives ambassador now, you would think he's been running his whole life, but Bill admits that at least through high school, he hated running. "I'm not fast and can't run far," he told a friend who suggested he give running a try. After 10 minutes, his asthma would put an end to any attempt.
And yet, the friend prompting him to run gave Bill the idea to try again. "I was 19," Bill recalls. "I went out that night and ran a lap around the high school track and felt like I was giving birth to a lung!"
What changed this time was that Bill kept trying, adding additional laps and then multiple miles to his running routine. He found that running became easier and his asthma less prohibitive.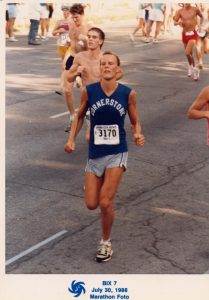 Forty years later, he's still running, crediting the sport with giving him a, "much more vibrant and energetic life." So when he moved to Colorado in 2012, he'd been running races, and more specifically Turkey Trots, for many years already. He wasn't going to break his streak.
He signed up for the Turkey Rock Trot not knowing that this one race would ultimately change the course of his running.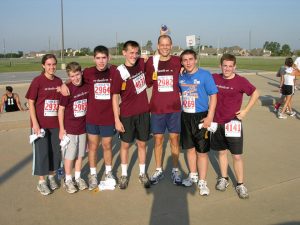 Bill says he loves racing for the community it creates. "It's not about winning. Winning races doesn't matter to me. It's about connecting with people."
The first year, the Turkey Rock Trot was relatively small and not remarkably different from any other 5K. Bill just enjoyed his Thanksgiving day tradition. That was enough to bring him back to the race the following year. Soon thereafter, the race would be transformed.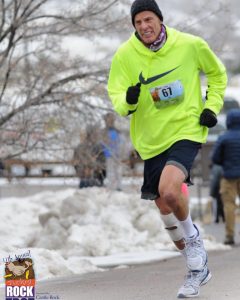 When Run to Change Lives took over the race management, Bill says it completely changed the event. It brought in the community, inviting local businesses to participate and creating a new energy around the race. "It started blowing up," Bill recalls. And he wanted to do anything he could to be a part of it.
The organization also began to grow beyond the race, establishing a year-round community around the idea that running could change people's lives. This is what spoke to Bill the most. "I want to see lives changed; I want to see people get better," he says. "I've been a part of running clubs that were just about running, and I've dropped out of organizations where the relationships don't stick."
And Bill is a testament to the fact that the community built around RTCL has stuck. He first became an ambassador for the organization more than four years ago with the goal of getting more people involved in and around the Castle Rock area. But now Bill lives in Minnesota, and he's still sharing the mission of RTCL.
"I get to be the Minnesota representative; I've got the whole state," he says, pointing out that the pandemic–for all its downsides–has helped move RTCL to an even more relational group. He can spread the community further and wider when it's oriented around connecting with other runners, not just participating in events.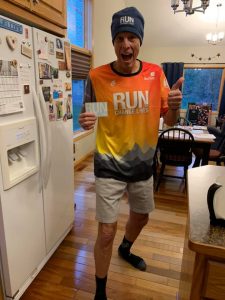 Bill believes, "The race is the connecting point, but it's not the end goal." He's excited about the prospect of continuing to grow this running community and showing more people that they can run.
"Don't go it alone," he says to anyone looking to embark on a running journey. "We were created to be in community!"
Though he would have preferred to run an in-person Turkey Trot this year–the Turkey Rock Trot to be specific–Bill didn't give the idea of running on Thanksgiving a second thought. He was always going to go out for at least 3.1 miles. But his virtual race was made better by the fact that afterward, he could connect with all of the others in the RTCL community and feel a part of a shared experience.